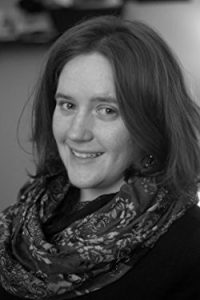 Rare indeed is the debut author who picks up awards for their novel, and even rarer still are those stories that win awards before even being published. And yet, that's exactly what Cari Dubiel has done with her debut work-in-progress, How to Remember. This past November, an excerpt of Cari's speculative fiction mystery won her the non-member submission for the 2017 Hugh Holton Award, a contest run by the Mystery Writers of America, Midwest Chapter.
Cari is currently seeking publication for How to Remember through Inkshares, where her campaign has already received backing by two syndicates. For those who aren't aware, an Inkshares syndicate is a group of readers who pool their resources to back notable projects and it's a rare feat to get the backing of one syndicate, nevermind two. But it's easy to see why Cari's novel has received this interest, because the concept is gripping.
How to Remember is the story of Miranda Underwood, a neurologist who's lost a year's worth of memories and is certain her employer, MindTech, is behind it. Miranda's job has been to help clients work through mental and emotional trauma by leveraging MindTech's revolutionary imaging and electrical therapy, but now that she believes her own mind has been compromised, Miranda won't rest until she knows exactly what MindTech did to her and why.
How to Remember is also the story of grieving computer programmer, Ben Baker, who can't seem to get his life back together following his mother's death. MindTech promises to help him heal, but it's only after he meets Miranda in the bar next door that he becomes a client. As Miranda and Ben grow closer, they discover that Ben has a deeper connection to MindTech than he realizes.
To learn a bit more about How to Remember, I asked Cari to provide a few words about the novel and her inspiration.
Some Thoughts From Cari Dubiel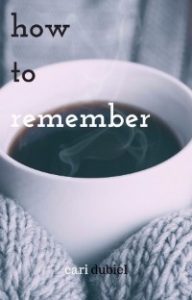 The genesis of HOW TO REMEMBER was a dream – in it, I had lost exactly one year's worth of memories. I didn't realize it right away. My phone had been wiped, and all traces of what could have happened during that year were lost. It was as if that year had never happened. I woke up feeling disconcerted, and then I started to wonder – what could that experience do to a person? How could someone lose such a specific timeframe? Was it even possible?
I've always had a hard time choosing what to read or write about. I'm an enthusiastic consumer of words – I'll read the cereal box if there's nothing else around. My influences are many and varied: science fiction, mystery, thrillers, literary novels, memoir. I love an action-packed plot, but I also love novels that wind words and characters together. With this book, I ended up with a blend of those things, using the elements of those genres that made sense for the story.
My protagonist, Miranda Underwood, is a neuroscientist, so she knows that memory isn't like a tape recording – you can't just erase pieces of it. However, she also knows that the company she works for, MindTech, has been exploring new technologies to manipulate the mind. So that's where the science fiction comes in. The mystery is whether she'll find out what happened to her and how. Miranda narrates from 2017, and secondary protagonist Ben Baker narrates from 2016 to fill in those gaps in her memory. Ben's got his own mystery: his mother is dead, supposedly in an accident, but the circumstances seem fishy.
The story world is suburban – I've lived in Ohio my entire life, with twelve years in the corridor between Cleveland and Akron. I've always felt that the rest of the world sees us as boring. And I guess, in some circles, we are. We don't have the excitement or diversity of major metro areas, and there's nothing entirely unique about us. My characters are squarely middle-class, suffering from "first world problems." At least, that's until things they can't explain bubble up from under the surface.
Many people in suburbia have this carefully crafted version of how they want others to see them – it's what they post on social media, this perfectly controlled image. Miranda doesn't, but she's living among those who do. She's dealing with a past she's kept buried, a present full of lies, and an uncertain future. Ben is just a bumbling nerd working along on his passion, computer programming, until his world gets upended, and he needs someone to cling to.
With this story, I wanted to explore themes of loneliness, togetherness, identity, and memory. I hope you enjoy it.
Closing Thoughts
Cari also put together a book trailer, which can be seen below:
Despite the strength of How to Remember, publication is by no means guaranteed. All Inkshares projects must meet a minimum threshold of pre-orders, and Cari's campaign has until early February 2018 to make her goal. If the concept interests you, please take a look at consider pre-ordering her novel at www.inkshares.com/books/how-to-remember. Cari has also put together some short stories available on Amazon, you can check them out here: www.amazon.com/Cari-Dubiel
If you'd like to know more, or would like to get in touch with Cari, she's available on the following platforms:
Webpage: www.caridubiel.com/
Facebook: www.facebook.com/caridubielauthor/
Twitter: twitter.com/caridubiel
Instagram: www.instagram.com/cb1281/