I have a lot of admiration for people who take the plunge into any sort of creative endeavor, but especially – bias alert – for debut authors. Enter Kate Merenda Hohl.
Kate is a former television producer who's now in the midst of trying to get her debut novel published. Flight of Angels is a strong entry in this year's Launch Pad Contest through Inkshares, currently in second place. This is a big deal since the top three finishers in the contest will get a publishing deal from Inkshares. While things are looking good for Flight of Angels, every little bit helps and in the interest of helping Kate reach her goal of publication, I asked her provide a few words about the novel and her inspiration. Please take a look and consider pre-ordering her novel at www.inkshares.com/books/flight-of-angels.
---
Flight of Angels: L.A. Confidential meets I Love Lucy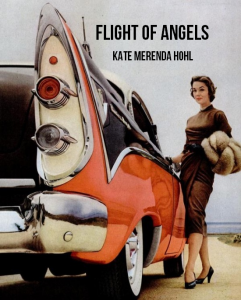 I've always been a fan of noir detective novels: Dashiell Hammett, Raymond Chandler, John D. MacDonald. When I started writing my mystery novel, Flight of Angels, I reread a lot of those books and also immersed myself in the music and movies of that time. I got pretty obsessive about it! If it was written or recorded after 1957 I wouldn't read it, watch it or listen to it. It really helped me get a sense not only of how people spoke, but the way they saw themselves. All the old detective novels had a strong male hero or even anti-hero, but one day I asked myself, What about the long suffering secretary? I figured there had to be more going on in their lives than just answering the phone, making coffee and looking pretty while crying on the boss' shoulder when things got messy. I wanted to write about a woman who was street smart and had a real moral sense of what was right and wrong. She would have to be brave, and not cave at the first sign of trouble. I realized that described my mother and grandmothers and nearly all the women that I know from that generation!  But none of those authors of detective novels from the 1950's ever wrote about women like that. So that's what I wanted to do.
The first scene that I wrote was Franny pulling into the parking lot of the La Brea tar pits where the dead body of a young woman is discovered. She nearly gets into an accident, she is taunted by the police for her lack of driving ability, and the only reason her boss needs here there is to deliver a file that today would have been sent over via text or email. But instead of leaving after delivering the file, she stays. She listens to her boss' conversations with the police, and observes the crime scene. Because there was more to Franny than just someone who could keep the office running smoothly.  I asked myself what would happen if circumstances arranged themselves so that she would have to step up and become actively engaged in solving the murder? That's when Franny really came to life.
Franny is a real New Yorker, and I considered setting the novel there, but something just kept drawing me and her to Los Angeles.  I started my professional life producing television commercials. Back in those days, I did a lot of traveling back and forth from New York to Los Angeles.  I had a friend there who was just as into Old Hollywood as I was so we would drive around to the sites of the old nightclubs: The Mocambo, Ciro's, Cocoanut Grove.  Flight of Angels is an homage to those places and the musicians and celebrities who frequented them. Of course, underneath Los Angeles' outward glamour, a different city has always existed. A city that is populated by criminals and con artists and the kind of opportunists who swarm to where the money is, desperate to get in on a piece of the action.
As it turned out, some of the most interesting parts of the book for me to write were Franny's fish out of water moments. For example, she hates to drive, and isn't a confident driver. Even back in the 1950's the traffic in Los Angeles was pretty harrowing! But if you don't drive in Los Angeles, you literally can't get around, so she digs deep and keeps trying even though she initially becomes more well known for her fender benders than for her ability to solve crimes. She faces the challenges of being an outsider, and of being a young woman in the male dominated world of law enforcement but she doesn't let that stop her from trying to do the right thing and get to the truth.  And she manages to have a few laughs along the way.  Hopefully the reader will too.